The Growth Guide: How To Run A Winning Interview Process & Select The Right Candidate
12 Pages of Questions, Brainteasers and Interview Formats for Hiring the Perfect Match
Asking the right questions can make or break an interview. Don't waste valuable time by asking the same, generic questions and ending up with the wrong hire.
TPD's Growth Guide contains questions and tips designed to assist you uncover a candidate's core values. This enables you to efficiently assess their fundamental strengths and evaluate whether they are truly a good fit.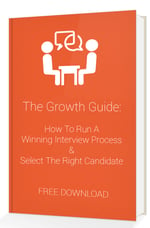 The Growth Guide Provides:
6 quick tips for interview success (pg. 2)

Behavioral assessment for past success and failures (pg. 6)

Ethics and compliance questions (pg. 7)

Actionable scenarios to present to candidates (pg. 8)

The brainteaser gauntlet (pg. 10)

How to avoid the lawsuit you don't want (pg. 11)
Improve your interview success rates with this free guide!