The Growth Guide: How To Run A Winning Interview Process & Select The Right Candidate
12 Pages of Questions, Brainteasers and Interview Formats You Can Swipe Today!
Stop wasting your valuable time by asking plain vanilla interview questions and getting dud employees.... The Growth Guide Cuts Deep to the Candidates Core Values so you can evaluate who they Really Are!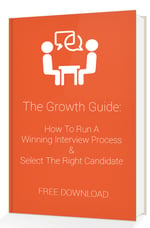 The Growth Guide Provides:
Actionable scenarios to run candidates through. pg 8

Behavioral assessment for past success and failures. pg 6

6 Quick Tips for Interview Success. pg 2

Ethics and compliance questions. pg 7

The Brainteaser Gauntlet. pg 10

How to Avoid the lawsuit you don't want. pg 11
Growth Hack Your Business Today - Grab The Guide While Still Available!