TPD Guide: Building Your Talent Bank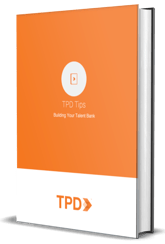 Whether you are recruiting because you have a vacancy or are being proactive and building your talent bank, you need to leverage the most efficient methods to find the right people.
A well-planned approach is essential for the success of your recruitment activity!
Improve your recruitment strategies with this free guide to building your talent bank!